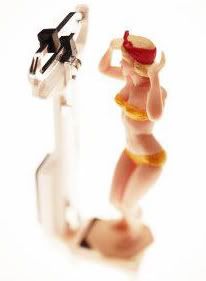 Even though my Weight Watcher meetings are at my work location and everyone in the meeting is a coworker, another one joined today! This is someone that I work with quite a bit. And we do lunch together once in a while. I was happy she did because as a result of her joining, she says, let's walk to subway! wOOOt! Triple Bonus:
1) The Monday lunch special is only 5 pts,
2) it costs exactly 2.50
3) you walk a mile and a half each way to get it.
We have decided that will be our ritual, twice a week (Mon & Wed lunch specials are the lowest in pts. ) Now... that is good news. I like Monday today.
In addition to a new tradition with the coworker, I lost 2 lbs! This puts me down one lb actually from the original loss. But, a loser is a loser, eh?
Congrats to all the other losers in my group. And to the other dieters that happen by, You are doing great! keep it up. *pat on the back for us all*