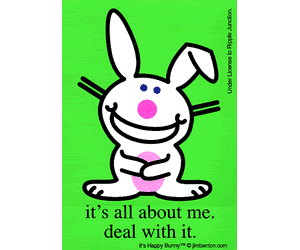 To my stomach. And someone told me that "false thoughts" are taking control of my life. That is one possibility. Basically? I am tired of relationships, friends or otherwise, where the people on the other side are not completely honest with me. I don't care if its bad news or good news... Just freakin' tell me the truth! It's not like I can't handle it. cha!
Lay it on me people. I am a strong adult woman, and I CAN TAKE IT! :wink:
I love the happy bunny... :giggles:
edit: If i hear myself say the words "kind of" again in a sentence, I may have to wire my mouth shut!!!!